This page lets you know about our…
Bank farm holiday park's equestrian centre.
Heated Swimming Pool
Tennis Courts
9 Hole Golf – Pitch and Put
River and Pool Fishing
Laundry facilities
Ample Car parking
If you love horses and ponies then this is the park for you!
Adjoining Bank Farm Holiday Park is our very own Equestrian Centre. Of all the yards in the Severn Valley and Wyre Forest this one offers probably the best accommodation with the most stunning views for you and your horse! (Our advanced selection of hire horses cater for all levels and abilities –we've lots of choice)  If you want to learn or for advanced lessons everything is catered for and our hunt simulations and trekking adventures are set at the right level for every rider. Please also contact us for riding holidays, short breaks and adult camps.
Quiet country lanes, well kept bridal tracks, 4000 acres of forest trails and our own farm offers riders the chance to explore and enjoy England's finest riding country.
Bank Farm Holiday Park's Heated Swimming Pool
It's big, it's warm and it's free to enjoy! Holidays are about relaxing and having fun and our heated swimming pool offers all our Caravan owners and their visitors the perfect place to unwind, relax and escape. You can swim everyday throughout the summer months, our pool is lovely and warm, heated by our eco friendly system.  Why not let swimming, the most enjoyable exercise, take away the stresses and strains of everyday life, help control weight and keep fit.
9 Hole Golf – Pitch and Put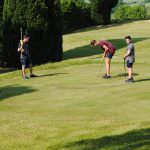 Our well established mini golf course has been our static caravan holiday owners' favourite escape since the park first opened.  The pitch and put course will challenge even the most talented golfer.  The course is an ideal way to unwind and relax and take in the stunning backdrop of the river Severn as it ambles along the edge of the park through the Severn Valley towards the coast.
Tennis Courts – Now open!
Anyone for tennis? Why not add it to your to-do list for next time you're staying? Don't forget your rackets and tennis balls! It's all new, full size tarmac count, new nets and posts and new fencing…If you've never played…you're never too young to start! Enjoy.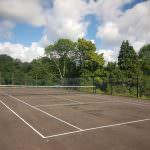 River and Pool Fishing
If you fish this is the Park for you!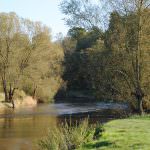 Our lovely well stocked fishing pools are scattered around the Park offering every visitor a great days fishing. If you're a professional or an amateur there's certain to be a spot you call your own, where you can escape the world, and enjoy the UK's most popular participant sport. Never fished? It's never too late to start!
Within a short drive there are several famous private fishing pools to explore including; Shatterford Lakes, Furnace Mill Fisheries and Wellfield Pools to name just a few.
The River Severn is probably Britain's best fishing river, this is big Barble country and it couldn't be closer. BAA members can fish for free, an adult's licence is only £40 for the 2021 Season!
*Find out more about the BAA
Laundry facilities
At Bank Farm most of our Holiday Home's use their own washing facilities however there is a coin fed tumble dryer and washing machine available in the laundry room should you ever want to use them.
Ample Car parking
Many of our Static Caravans have a parking space next to their holiday home; however, there is ample parking facilities available at either end of the park. There is never a problem to park and our carparks are never far away.
To find out more about Bank Farm Holiday Park please call-
01299 401277